Country Houses
Casa del Contadino
Casa del Contadino is an excellent venue for medium size wedding receptions up to 100 persons (ideally between 20 to 80 persons).
Its privileged location is close to main airports such as Florence, Pisa, Rome, Perugia and Bologna and major motorways and highways yet set in pristine countryside.
It is also located close to all major Tuscan destinations, celebrated landscapes, cities of art, wine production areas and fashion malls.
Contadino has a reputed restaurant catering delicious Italian recipes with a focus in regional food. We have the chance to produce directly most of the ingredients used in our cuisine, especially wheat (using non industrial seeds) and other cereals, rare herbs and organic meats. We produce our own red wine and organic olive-oil.
We have a panoramic al fresco dining terrace and a natural wood covered terrace.
In terms of accommodation it combines the flexibility and independence of self contained villas with the facilities of an hotel such as breakfast, reception, food catering, permanent staff on site.
With sunlight bathing silvery olive groves and patchwork vineyards, few places on the globe are as romantic and relaxing as Tuscany.
And this intimate atmosphere is what prevails at Il Petruccio, an elegant estate hidden in the heart of Tuscany less than an hour from Florence, Siena and Pisa.
Dominating this luxury retreat is a medieval tower, undoubtedly a reminder of the ancient city of Semifonte destroyed in 1202 A. D. by Florence, its rival.
The elegantly restored tower, together with four other refurbished edifices on the estate, is waiting to accommodate guests on a timeless journey into the heart of Tuscan life.
Whether you find yourself sipping tea by the pool or indulging in a glass of Chianti wine at sunset in the tower, the majestic views and magical essence of times gone by is sure to embrace every guest visiting Il Petruccio. This is a perfect wedding spot for weddings of no more than 60 people. Around 35 can sleep on the property in self catering apartments.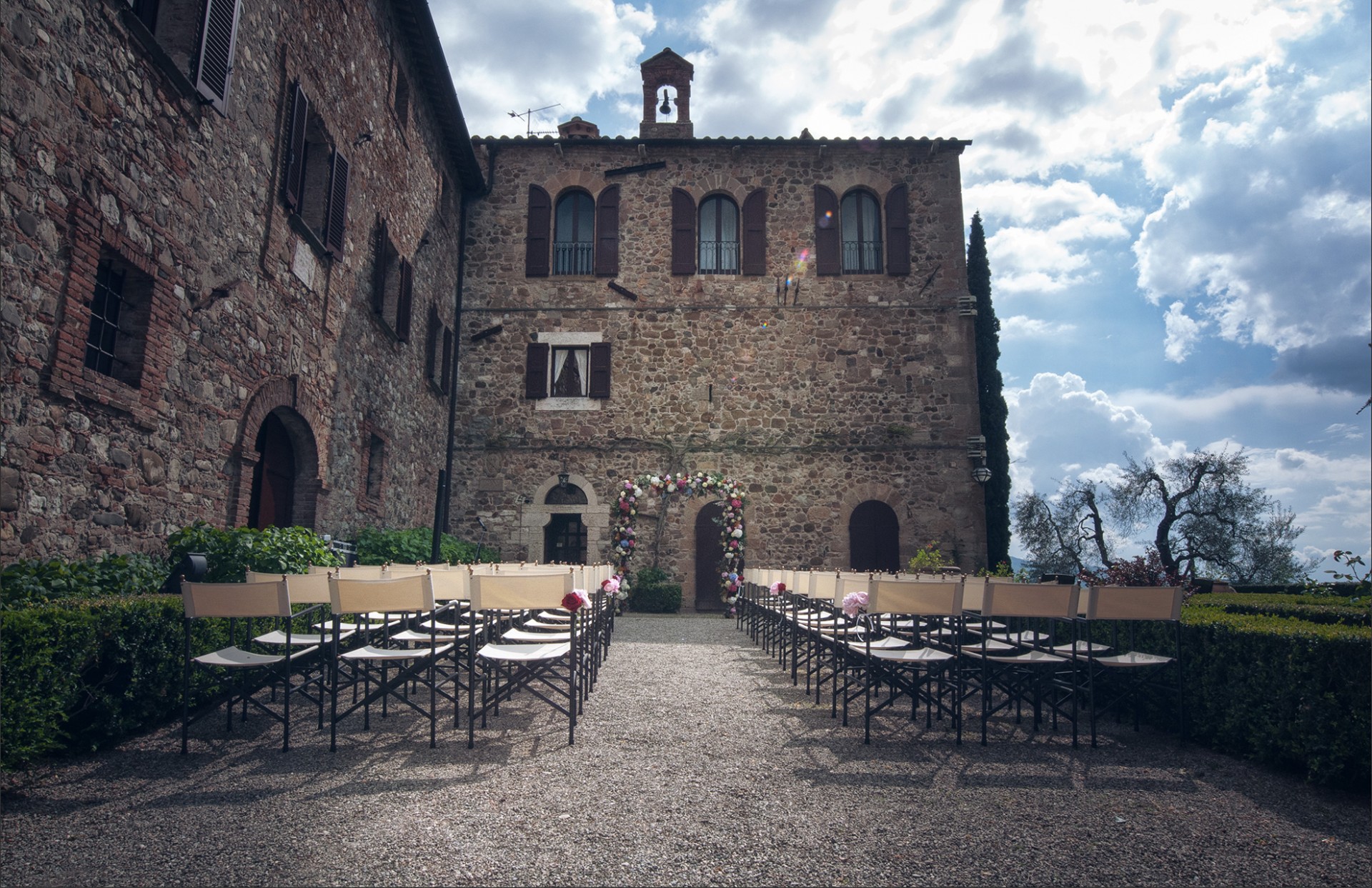 A wedding in the magical setting of Borgo Val d'Orcia is impossible to forget.
In the shadow of a great elm tree, in the middle of the Piazzone, heart of the Borgo, the terrace of the ancient Granaio is covered by a wisteria. Inside, two large salons with majestic wooden beams provide shelter during the cold months.
Further away, among the trees, the little church of Borgo is nestled in the trees, an elegantly simple building. Pienza, "the ideal city", can be seen from afar.
The little church of the Borgo is an elegantly simple building. Many weddings have been celebrated here, all of them made unique and unforgettable by the religious atmosphere, the floral decorations and the joy of sharing the moment with friends.
After the ceremony the couple and their guests can descend to the lawn and its panoramic pool to enjoy a magnificent sunset view for a celebratory drink and colourful aperitifs before proceeding by torchlight to the Piazzone del Borgo and the beautiful arrangement of tables and sunshades or illuminated gazebos where the wedding dinner is laid out.
Borgo di Val d'Orcia has onsite lodging, with guest 32 rooms. This venue is ideal for 80-100 guests.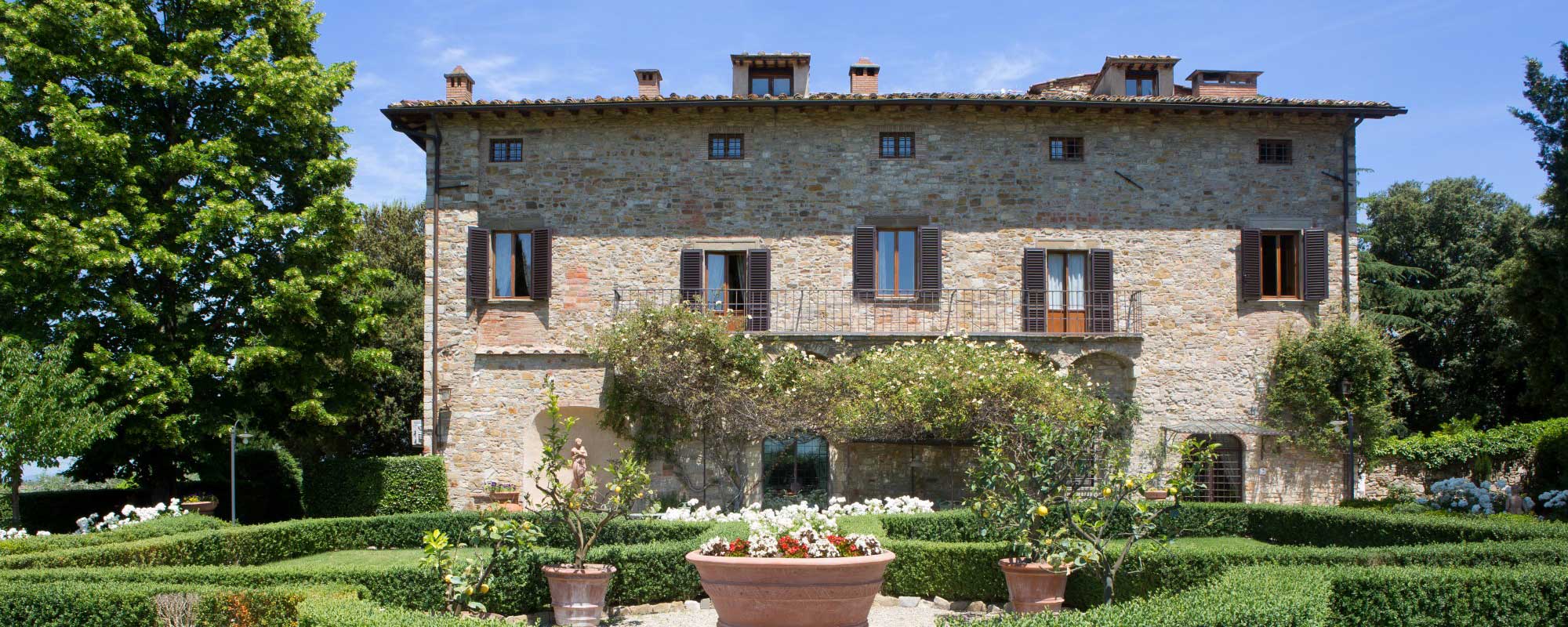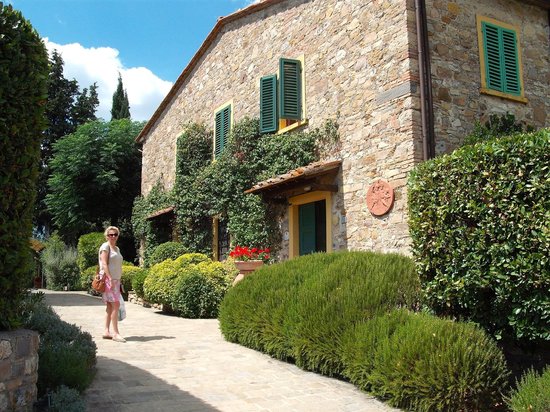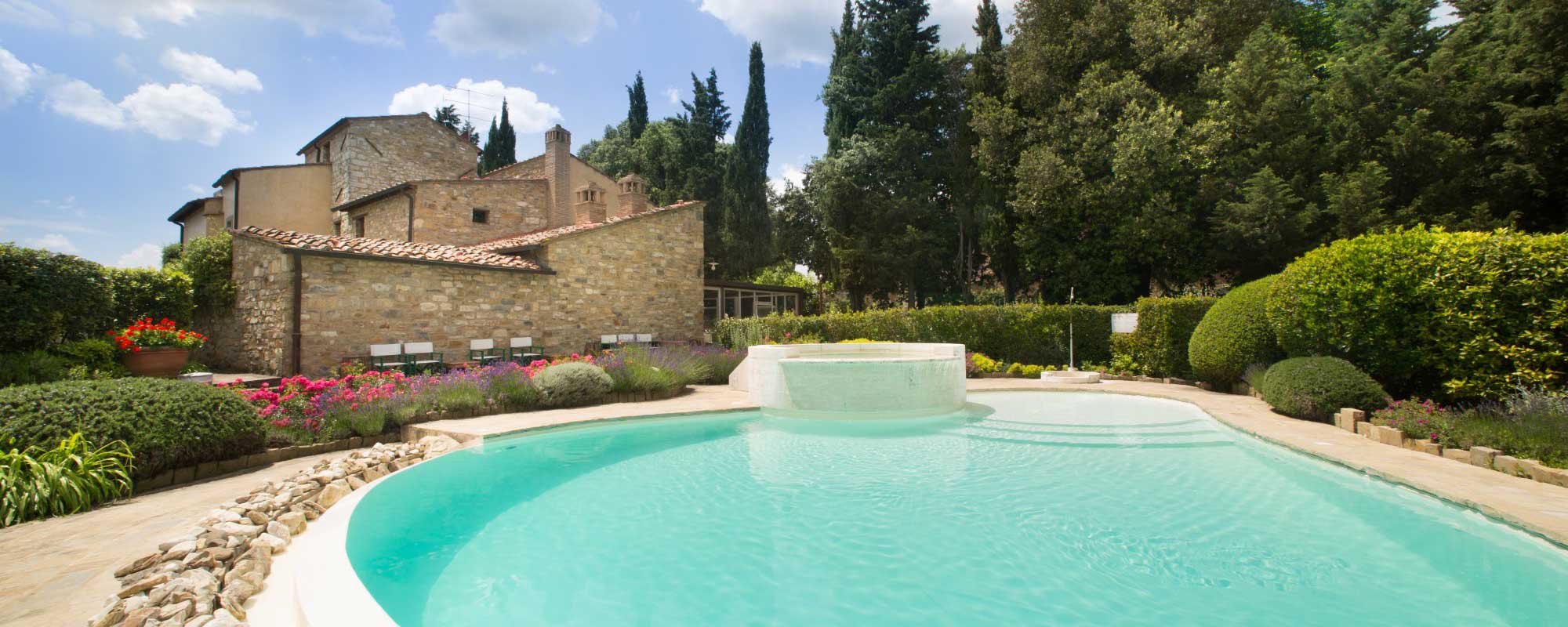 Il Cortile features ten villas of different sizes, independent one from the other. All our villas are unique and most of them distinguished by wood-beamed ceilings and terracotta tiled floors. The elegant furniture, different in each villas, are original and carefully chosen for every room.
The villas features an outside patio and some of them also a private garden to allow our guests to enjoy a pleasant and relaxing stay with us. The large gardens of the property and the outdoor swimming pool are at our guests' disposal.
This venue has a pool, olive grove and several spaces for an outside ceremony. This venue is perfect for weddings of 30-90 people.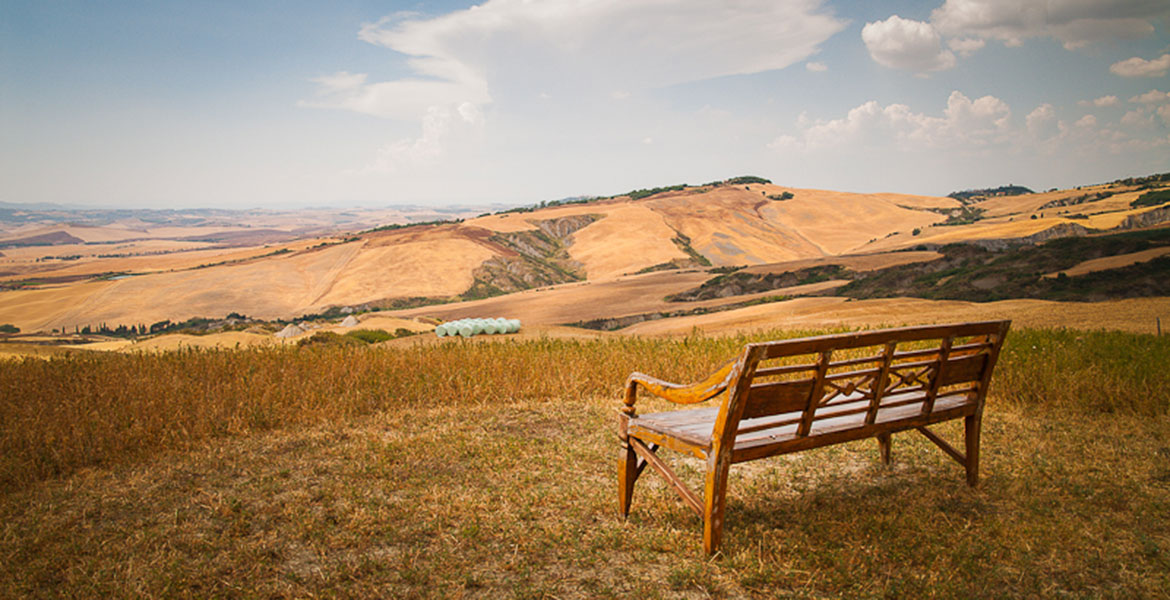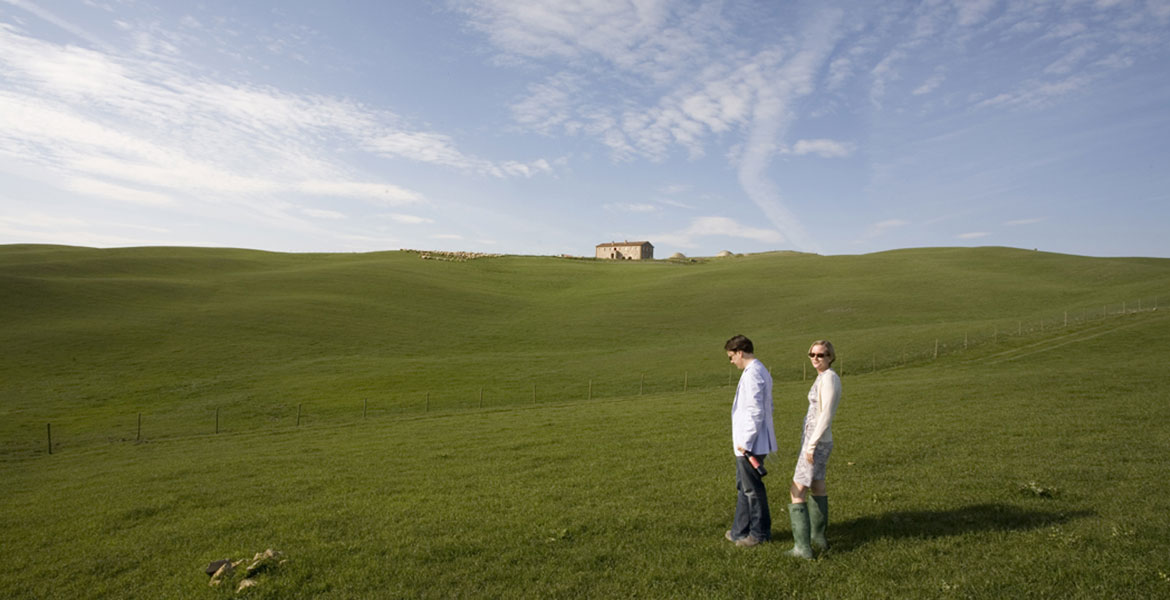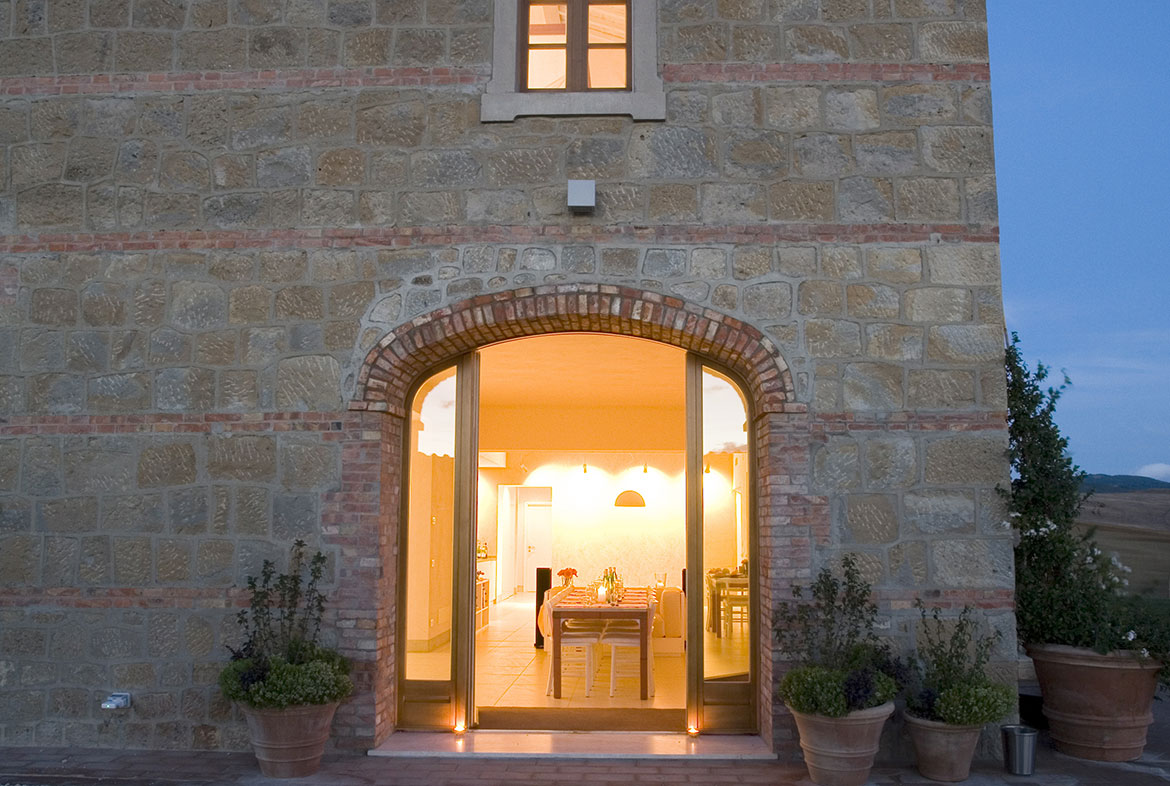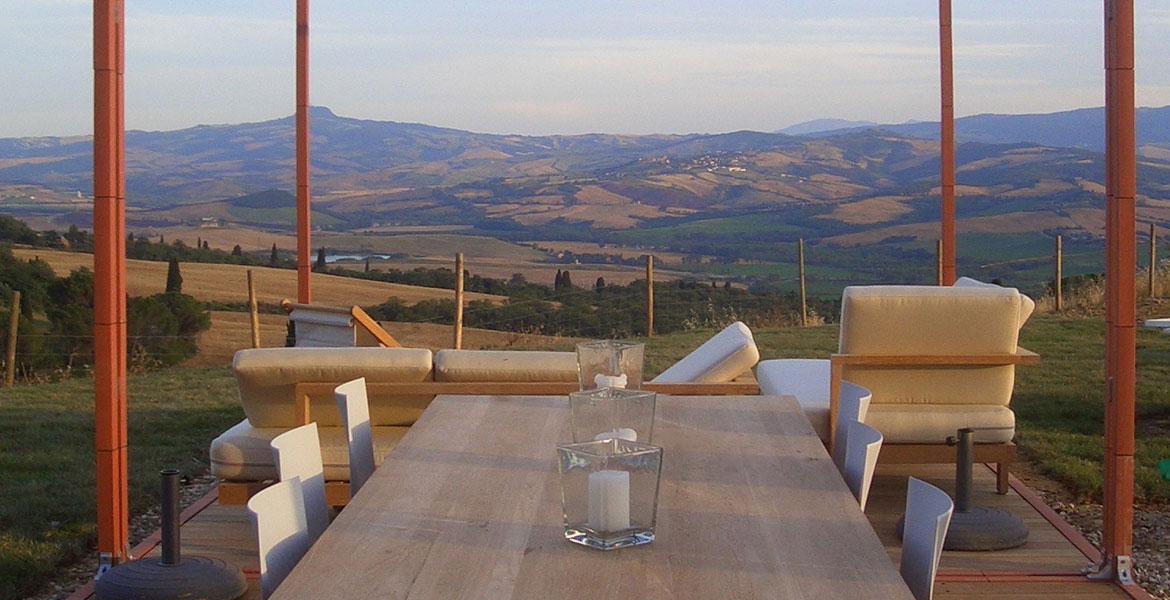 Borgo il Santo is a wonderfully hidden country house sitting snug at the end of some forgotten road just south of Pienza, set in an agricultural scene of rural seduction that smacks of Tuscany. Born of a dream by two high flyers that wanted something else in life, they created a rarity of a bolthole that applied a good measure of down-to-earth attitude mixed with a sense of worldliness. The result is a fab non-fussed pad that has everything you need with all of the causality you crave. This is a perfect venue or a small group of friends and family looking for something modern and quiet. Their are no noise restrictions or curfew! The venue has a pool.
Borgo il Cugino lies in the centre of Tuscany. The historic estate lies nestled amidst vineyards and is surrounded by olive groves and idyllic hills. Borgo il Cugino has been completely refurbished to offer guests a tasteful ambience where new stories may be written and beautiful memories begin. The villa is 800 years old and situated in a picturesque landscape of uniquely wild beauty. House and nature melt into an aesthetic unit radiating the typical flair of Tuscany.
This beautiful country house is perfect for small intimate wedding of around 50. Groups of up to 25 guests can sleep at the villa, while the nearby hotel can house the rest.
On the second floor of the villa there is a spacious, fully air-conditioned hall that is great for a plan B. Large roof windows provide natural day light, whereas indirect lighting and the dark wooden floor ensure an atmospheric ambiance during the evening.